A fantastic region to go hiking is the Glass House Mountains in the Sunshine Coast. I've done a few hikes here, Mt Tibrogargan, Mt Ngungun and most recently, Mt Tibberoowuccum. Of the three peaks, I loved them all and definitely had fun doing Tibrogargan, but I reckon arguably the best hike in the Sunshine Coast is Mt Tibberoowuccum. Why? It falls in Goldilocks territory – not too steep, not too easy and not too popular, while giving you a solid taste of the region's natural beauty.
Finding the Hike
Mt Tibberoowuccum is thankfully easier to find than it is to spell, although I would've had trouble without the internet. In fact, I took off with my 12-year-old on a nice little side adventure, as I got lost for a bit. I did park in Mt Tibrogargan car park, which is correct, although I walked down a fire trail for about 15 minutes in the wrong direction. Parts of the trail looked unkempt and the wind was steady amidst an otherwise silent landscape, which spooked my son a little.
Deciding to put a bit more effort in, I found the trail was located about 200 metres down Marshs Road, towards the left if you're exiting Mt Tibrogargan car park. Once we found the signature locked gate with a 4WD track, I breathed a sigh of relief, as did my son. From here we hiked to the top of the bend and followed it around to the right for a few hundred metres until we reached a flattened pile of rocks on the left-hand side, which evidently used to be a cairn.
The Journey Up – Best Hike in the Sunshine Coast
The walk starts off on a gradual uphill slope through bushland. There's a trail to follow which makes it pretty obvious where you're going, but compared to other trails in the Glass House Mountains, this one is relatively unmarked. There's no signage, although just keep going until you hit the ridgeline and start walking across to the left. What makes this arguably the best hike in the Sunshine Coast is that it will give you a bit of a workout without being too taxing. You're also immersed in nature with not a lot of people about.
We rested intermittently on the way up, as my son needed a breather on the steeper parts. I was feeling pretty good the whole way up as I'm a walker and this hike was pretty straightforward for me. We passed a group of three young people and my son was happy to see other hikers. After about 20 minutes we hit the ridgeline and travelled left along the top, traversing the undulations which gradually got a little steeper as we continued.
The Pimple and the Deal
We knew about the last section of the hike beforehand, as we'd looked it up. When we were driving towards Mt Tibrogargan car park, we could see the outline of Mt Tibberoowuccum and the top looked like it had a pimple on it. This 'pimple' is a little steep and is about four metres high. We reached a hill just before this and Olin, my son, said 'was that the pimple'? For a second I thought it was until the trail continued, and we found it a little further ahead.
Physically, this last, four-metre scramble up a rock face is not hard, particularly if you have a reasonable (average) level of fitness and dexterity. It's a little high up though, which may perturb you, and as we were ascending there was a strong wind blowing. This worried me a little as my son is timid and I'd already made a deal to give him $35 to climb the mountain, as he felt scared on our wrong turn earlier (we bargained to get to that price).
He flat-out said he wasn't doing it, until I broke it down and we took it one step (quite literally) at a time. Five minutes later we were sitting on the crest of the pimple, on the summit of arguably the best hike in the Sunshine Coast. To me, this was a pretty easy climb and the last bit was similarly easy, but this might not be the case for you. My son was at his limit with this one and we celebrated his achievement at the top.
Aboriginal Significance
Unlike Mt Tibrogargan and Mt Beerwah, the Aboriginal significance of Mt Tibberoowuccum is certainly not glaring. However, the Glass House Mountains in general holds particular sacred significance for the local Indigenous people. If you know more about the Aboriginal significance of Mt Tibberoowuccum, please let me know. According to this site, the word Tibberoowuccum means 'hungry flying squirrel' in the local Jinibara language.
The Summit
What I love about this hike is that it isn't too easy – like Mt Ngungun – and it will get the blood and adrenaline pumping a little, which is always nice. The view at the top is also excellent. I loved climbing Mt Tibrogargan, as it got my heart racing and was a nice little challenge, but the view was largely shrouded in shrubbery. Not the case here, as there's 360-degree views across the hinterland. You get a great view of Mt Tibrogargan, right in front, and to the rear you look at Mt Beerwah (which I'm soon to climb) and Mt Coonowrin.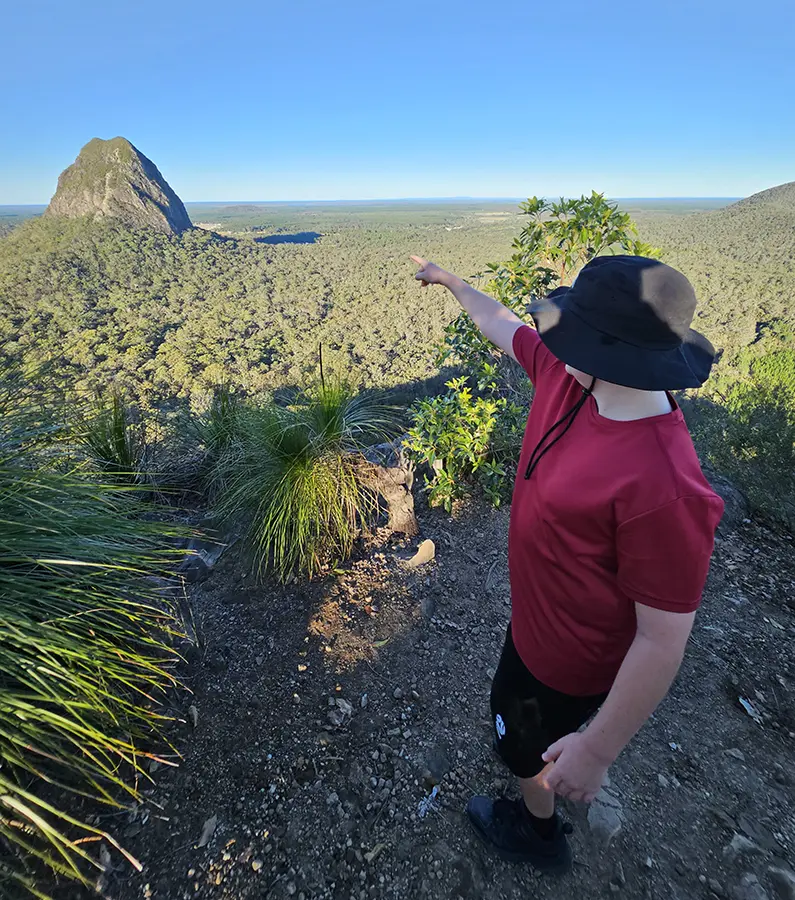 There's also a small but stable plateau on top to soak it all up and some nice foliage that adds a splash of artistry to your backdrop of green, green furry mountains. The combination of all things makes Mt Tibberoowuccum arguably the best hike in the Sunshine Coast and the view is certainly a large factor in that. It was here, on the summit, that a lone hiker joined us briefly before she too returned. It was nice to see two parties climbing on this splendidly beautiful Sunday afternoon, enjoying the day, which was about as good as it gets.
The Journey Down
It didn't take us long to get down, but take care on the descent as it's easy to slip given the unstable ground. My son rolled his foot and scraped his back on a rock. Nothing serious, but it was a good reminder to be mindful when you're descending some rocky, relatively steep terrain. Twenty minutes later we were back at the start of the trail, high-fiving for an awesome experience (see my video at the end), which for my son was a particularly challenging one.
Degree of Difficulty
Mt Tibberoowuccum is a grade 3 hike, which is regarded as intermediate-level. You can read more about the grading system here. If you're uncertain about this hike, try Mt Ngungun first, but there's a bit of a difference between the two, even though Ngungun is also rated a grade 3. Ngungun has a wide path, stairs and a railing for much of the way up, so it's difficult to compare it to this. Mt Tibberoowuccum has none of these, being a relatively unknown hike, but really that's what makes it the best hike in the Sunshine Coast.
If you can walk up a reasonably steep hill for about 20 minutes and you don't mind bushland, you've got this. It's just the last part that may trip you up. In all honesty, there's nothing much to it, as there are places to hold on, but if you're immobile, lacking dexterity or particularly afraid of heights, you may stop at the last part. However, that's totally okay, as the last part is very short and you still have access to nice views over the Sunshine Coast hinterland even before you get to the top. Go anyway is my recommendation (if you're able).
The Lookout Café
A worthy little stop in the area is the Lookout Café, not least for the views it offers. The food here isn't bad, just your standard fare and the service is a little slow as it's a popular place. However, the staff are friendly and my standard meal (the whole two times I've been there) of a haloumi burger and chips hits the spot. Sitting at the window for a while, we got an excellent view over Mt Coonowrin. Slightly further west you'll see a partial view of Mt Beerwah, which I'll climb soon and tell you if Mt Tibberoowuccum really is the best hike in the Sunshine Coast.
A Few Fast Facts
With steady walking, a reasonable level of fitness and ten minutes at the top, you could do a round trip up Mt Tibberoowuccum in 45 minutes to an hour. I reckon we took almost double that.
The hike is approximately a kilometre each way.
Take water with you, but as it's a short hike you should only need a litre.
Take care after rain and in the summer, as the ground could be a little unstable and it looks like snake territory, although we didn't see any on our sunny winter's day.
Wear a good pair of shoes, preferably with ankle support, for the above reason.
The trail up the mountain starts about 10-15 minutes' walk from Mt Tibrogargan car park.
As always in Australia, wear a hat, but there's quite a bit of shade on this hike.
You don't need to climb the last part, 'the pimple', to enjoy the views and the walk up Mt Tibberoowuccum.
Although, of course the views are better at the top.
Enjoy!
Have you climbed Mt Tibberoowuccum? Do you think it's the best hike in the Sunshine Coast? Why/why not? Share your thoughts!