I love searching for Japanese speciality food in Brisbane – places which don't try and do everything, but just do their thing well. Uncle Don in Paddington specialises in Japanese 'donburi', or rice bowl dishes, and does it really well. So when I discovered there was a restaurant and bar specialising in yakitori grill – Japanese skewered chicken – I was sold. Additionally, Bird's Nest Yakitori & Bar is situated in Brisbane's lively West End, which makes for great people-watching.
The Atmosphere
I love being surprised when I walk into a place. I don't know what I was expecting, but it wasn't somewhere so lively. However, it was a Saturday night in the West End. It was fun, as the place was packed but not so much that you couldn't move. The yakitori grill was on fire, people were chatting in front of that (on the bar) and every table was packed.
The décor was modern with a hint of traditional Japanese, which was a nice touch. The waitresses and chefs were all in uniform and everyone was busy, yet they were having a good time. If you're looking for somewhere with a bit of a vibe, this is it. It helps that it's located smack in the middle of West End and South Brisbane too, on the corner of busy Melbourne and Boundary Streets.
The Food – Yakitori Grill
Being a speciality Japanese restaurant with a decent reputation (word on the street is this place is good!), I was expecting good food. Thankfully, I wasn't disappointed. We staggered our food, ordering bits of this and that, which makes for a more convivial experience. Olin, my 12-year-old, ordered a Japanese curry and Pirikara Fries, which were sprinkled with Japanese spice and came with mayo. Both were pleasant but nothing exceptional.
I then ordered a plate of Kari Kari Cheese – gluten-free, crumbed and deep-fried camembert with soy caramel and yuzu mayo. This was crispy goodness, with a mushy, rich cheese centre surrounded by a hint of sweetness. Superb. My partner then ordered chicken tenderloin skewers (the house speciality) with mayonnaise and crunchy garlic. She professed these were amazing. The yakitori grill here was literally and metaphorically on fire.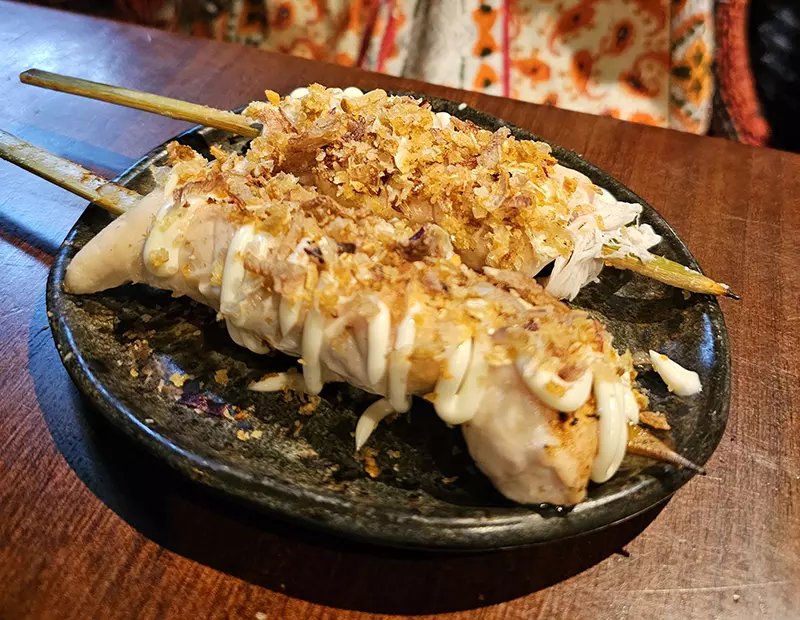 Following that, I ordered Onigiri, which is a vegetarian grilled rice ball with sesame oil and burnt soy. This was just okay. Could be an acquired taste? I then ordered the Eringi Skewers – which are king oyster mushroom skewers brushed with dashi soy and butter. These were a tad chewy, but the flavour was as you might expect a quality mushroom on the yakitori grill to be – bursting with flavour.
Finally, my partner Nikki then ordered the Tomato Butabara Skewers – which are super sweet grape tomatoes wrapped in thinly sliced pork. She reported these were 'yummy and light, as the pork was thin like bacon'. We then shared a plate of grilled garlic prawns, which were to me far and away the star of the evening. These tasted fresh, succulent, tender and full of chargrilled goodness. In short, these were memorable. We loved the yakitori grill at Bird's Nest and we'll certainly return.
The Drinks
I was in the mood for a tipple with my yakitori grill tonight, so I came straight out of the gate with a clear, Japanese whisky on the rocks. It was smooth and cold – a superb accompaniment to the lively atmosphere. Following this, I ordered an Asahi super dry and my partner ordered the Umeshu plum wine tasting set, which of course I helped her with.
The Umeshu was a sample of four wines which were – Choya; Uji Green Tea – which was smooth and subtle; Kokuto Brown Sugar with rum and black vinegar – very sweet but agreeably smooth; and the Hannya – which was the chilli-infused plum wine – which had a subtle, cheeky spice. Check out my video for more detailed action on this interesting little set – which made our night that bit more fun. These weren't very alcoholic though, so if that's what you're after, maybe try something else.
The Service
Most of the time when I do a review, the service is pretty good, but nothing special. Here I'm pleased to say that the service here was exceptional. There weren't that many waitresses on and it was a full house, but our lady was friendly and checked on us often, though not too much. She also stopped and genuinely asked us how everything was. I was impressed. Bird's Nest Yakitori & Bar take their service seriously, yet they all looked like they were enjoying their job. I even got a cheeky smile from the guy on the yakitori grill, who was busy. You can check that out in my video below.
Our Thoughts Overall
We'll most certainly return and I would put this place in my top five restaurants I've eaten at in Brisbane. As far as Japanese food, it's in my top two in Brisbane. We also loved Uncle Don in Paddington, which is neither better nor worse as it does its own thing –  'donburi' dishes – really well. I also loved Isakaya Kotobuki when it was on Albert Street, although I haven't returned since it moved to George Street.
Anyway, Bird's Nest is certainly worth the hype. I would also say the atmosphere and service here is one of the very best I've experienced in Brisbane.
Go for – the yakitori grill, the atmosphere and the service.
Vibe – culture party, Saturday night.
A Few Fast Facts
There's also a Bird's Nest Yakitori & Bar in Fortitude Valley and Toowong.
There's not much parking around this West End/South Brisbane restaurant, so take this into consideration.
There's seating in front of the yakitori grill, separated by glass (see my video above), but get here early to get a spot, as it's popular!