One of the many superb things about living in Brisbane is that you've got places like Moreton Island – a world-class natural wonderland that's also the world's third largest sand island – just a short distance from the city. Even better, Moreton Island adventures don't need to be expensive, as I recently found out when I camped at Tangalooma Wrecks for three days with my son. Three cracking days without electronics!
Camping
If you're on a budget, then the island's resort is not an option, which means camping. There are five campgrounds in all on Moreton Island, and if you're not travelling with a 4WD (which was us), then you've only got one option: The Wrecks camping area. Fortunately, it's much closer to the boat drop-off point than the website will have you believe – being roughly 50 metres walk – so you can bring quite a lot of gear over to make your stay more enjoyable.
Camping is pretty au natural on Moreton Island, as there's limited facilities. Here's what The Wrecks camping area does provide:
Twenty-one tent sites (to my surprise, there's quite a few that are shaded, although it's first in best dressed)
Cold showers
Drop toilets
Rainwater (which you must treat before drinking)
Bins
Phone reception (Telstra) is pretty good around the campground.
A good tip is to bring sand pegs for your tent, as the campground is sandy. Here's my list of what I packed on a three-day trip with my 12-year-old. We had a fair bit left over at the end.
In all, our camping experience was excellent, as we managed to find a shady spot and the neighbours weren't too noisy and as a bonus they were nice.
What is there to do at The Wrecks camp area?
The big drawcard is the Tangalooma Wrecks, which are a cluster of boats that were deliberately sunk by the Queensland Government from the mid-1960s to the mid-1980s. This was to provide a more sheltered spot for boat owners to anchor. On a clear day, it's a veritable wonderland, as coral has formed on the boats and fish scuttle just below the surface of translucent water.
My son Olin expressed no interest in snorkelling, although I brought a couple of snorkels in case. On our first day, the weather was sublime, although we chose to explore instead – along the beach down to the Tangalooma Island Resort (which you're forbidden from entering if you're not staying there) and up to the next campsite – Ben Ewa. You could also camp at Ben Ewa, which is quieter and more secluded, although as it's about 1km up the beach, it may be a bit of a slog carrying your gear.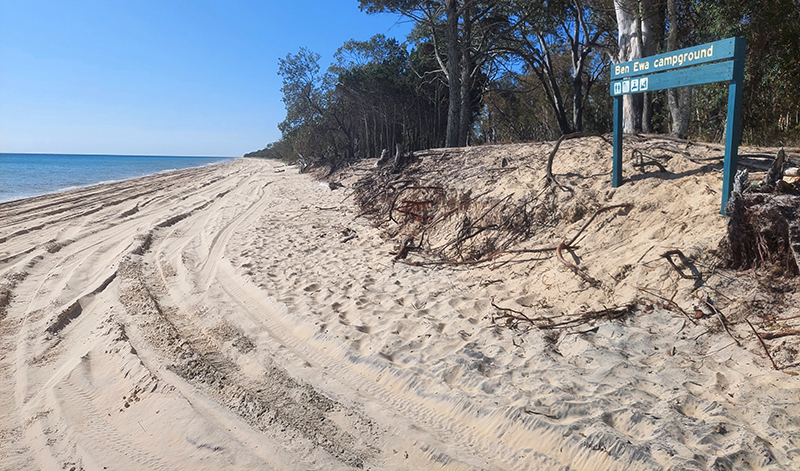 On our walk to Ben Ewa, we enjoyed splashing in the water, spying rows of starfish lazing in and out of the water and walking past whopping sand dunes, which more active families were plummeting down on body boards. Unfortunately, we were also smothered in smoke by a passing 4WD and harassed by plover birds, but the weather and watching several eagles glide over the sea made it all worth it.
That night our Moreton Island adventures were particularly memorable, as the sunset cast shades from yellow to black across the sea, which shimmered across the wet sand and onto the beach where we sat and ate pasta.
The Wrecks
In between activity, we enjoyed bouts of reading and lazing back at the site, and when we finally did investigate the scuttled wrecks – the following day – the weather had turned sour. What made it memorable, however, were the hire kayaks on the shore, which we manoeuvred around other recreationists, zigzagging fish and hunks of rusted iron for about an hour. Definitely go snorkelling here if you can. It was a bit chilly when we were there (late September), so maybe a trip from late spring to early autumn would be best. Saying that, these brave ladies went in the wintertime and loved it.
I didn't have any underwater camera equipment this time, but I recently acquired a Go Pro, so I'll definitely be back to do this place justice in the near future!
What I didn't like about our Moreton Island adventures
The toilets at the campsite were pretty filthy, so that's something you may want to prepare for if that bothers you (who likes a shitty toilet?).
The sheer amount of 4WDs on Moreton Island. This was definitely my biggest dislike of the whole place. Moreton Island seems like one big highway for 4WDs, and when the ferry came in, there were around 50 4WDs lined up along the beach. I had to dodge quite a few on my wanders and had smoke in my face more than once. I thought this a tad ironic given the island's slogan 'Escape the Fake' was plastered across marketing material and the island ferry.
Moreton Island would be great for people 4WDing to more secluded parts of the island and the place is full of such adventurers. One bonus though is that at sunset everyone seemed to disappear and The Wrecks beach was just magic.
After three days on Moreton Island my son was missing his creature comforts and electronics. I did feel the island definitely provided an idyllic escape from that world, although next time he wants to stay at the island's resort. We'll see…. Either way, I'll most certainly be back for more Moreton Island adventures.
A few fast facts
You get to The Wrecks campground at Moreton Island via ferry, which leaves from Pinkenba near Brisbane airport. Ferries leave several times a day (check the website for times) and I paid about $115 for a return trip for the two of us.
Camping was super cheap, around $10 a night, but check as prices vary throughout the year.
Again, there are very few facilities on the island and the island's resort is not open to outsiders (you can't enter the restaurant or premises at all if you're not staying). So bring everything you need.
There is motorboat, kayak, wetsuit and snorkel hire on The Wrecks Beach. From memory, I paid $30 for the hour for a kayak.
The Aboriginal name for Moreton Island is Mulgumpin.
The tide can get strong here, so take care in the water.
There's sandboarding at large dunes further south of The Wrecks campsite. Buses depart from the beach. Something else I'll have to get back for!