If you're searching for a Brisbane weekend getaway, you'd be hard-pressed to find a more spectacular activity than a Noosa Heads walk through Noosa Heads National Park. Isolated beaches, dramatic headlands and translucent water can be found just metres from the main strip. Better still, a short drive away lies Australia's 'biggest and best artisan market' – Eumundi Markets.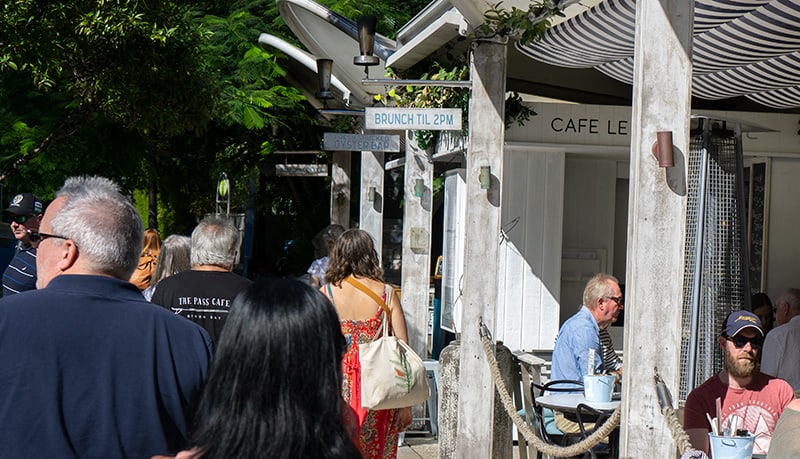 I was looking forward to this weekend, as we were staying in the Sebel in Noosa. We had a swimming pool, a spacious room with a balcony, a nearby beach and a weekend with no work. I'll just say that if you're looking for somewhere to stay in town, I highly recommend the Sebel. There's absolutely no affiliation with Brissie Life, I just enjoyed my stay.
As it was well-positioned in town, we were able to explore Noosa's restaurants and cafes with ease. Additionally, Noosa Heads National Park is right at the end of the strip, and if you have the energy, this Noosa Heads walk offers an excellent natural playground to explore.
Noosa Heads Walk – Noosa Heads National Park
Starting at Laguna Bay day-use area, I planned our Noosa Heads walk through the National Park in an anti-clockwise direction. The tip of the headland, Hell's Gates, is just short of 3 kilometres away. The furthest point in the national park from the day-use area is Sunshine Beach, which is 5.4 kilometres. You could easily make a day of it if you took your time at various beaches, headlands and hills.
This Noosa Heads walk is well-paved at the start and later when it turns to dirt the tracks are wide. It was a beautiful day out exploring, as the weather and the sea were postcard perfect. I walked past the Boiling Pot, which is so named as it bubbles like a witch's cauldron (so the sign says) in rougher weather. Today, there was not a shred of foul magic, it was all sunshine and serenity.
Picnic Near Hell's Gates
Heading further up the coast I passed Tea Tree Bay, named after the dominant tree that grows in the area. Here there were sailboats and stand-up paddle boarders making the most of a cracking late autumn day. The track was still manageable for the less abled, while each turn revealed a more sublime stretch of coastline. Picnic Cove was probably my favourite beach I saw at Noosa Heads National Park.
It really doesn't get much better than this. At this point, I can only say pay Noosa a visit during May. It's just the best time!
A Little further on and I reached what would be my farthest point on my Noosa Heads walk in Noosa Heads National Park – Hell's Gates – as I was running short on time. Hell's Gates contains a pretty high bluff for this stretch of coastline. It's also allegedly the perfect spot to spy dolphins frolicking about and ospreys soaring above this pretty part of the world. Unfortunately, I saw neither but it was still one of the best days I've had in recent memory.
Eumundi Markets – Australia's biggest and best artisan market
Why not combine your Noosa Heads walk with a trip to Eumundi markets? If you're into food, coffee, music, clothes and quirky knick-knacks (let's face it, who isn't?), the Eumundi Markets might just scratch your itch. It's also a fine place to people-watch and stroll over to the nearby town. Grab a spot under a tree with a coffee and a pastry and think just how fortunate your life is.
I also love Eumundi Markets as I'm a music lover and there are quality musicians that play here. I was chatting to a piano player for a while and I stopped to admire a young violinist and an older duo playing the tuba and piano accordion. The latter two were groovers and were pulling quite the crowd.
Food and clothes shopping
Of course the food was excellent, as it often is in markets – there was a 'gourmet melt shop' with super-duper grilled cheesies. There was also a mouth-watering Middle Eastern food stall I was keen to try but I was too full of pastry. It's clear I need to be more strategic with my scoffing when visiting Eumundi Markets.
If you're into clothes shopping, Eumundi offers some quality, locally-made items. So come prepared as this is the place to get a souvenir, or at least something you won't be able to buy elsewhere. Maybe you'll want one of these larrikin signs to hang up over your garage or shed?
Eumundi Town
Following our morning exploring Eumundi Markets in a slow and circuitous fashion, we relaxed in the town centre for a bit. Here there are some good books stores and cafes to while away your time. Eumundi is one of those places that hasn't been spoilt by tourism yet, but it's getting more popular. Make sure you pay it and its markets a visit when visiting Noosa.
In all, Noosa Heads National Park and Eumundi Markets make for an awesome weekend away from Brisbane, particularly in autumn when it's not too busy. I was a bit sad to leave the Sebel, but I'll certainly be back.
A few fast facts
Noosa is a two-hour drive north of Brisbane.
Eumundi Markets are a 25-minute drive from Noosa. The markets are open on Saturdays from 7am to 2 pm and Wednesdays from 8am to 2pm.
Noosa Heads National Park is culturally significant to the Kabi Kabi people, who are the original custodians of the land.
Noosa headland was declared a national park in 1939.