Do you go looking for hidden bars in Brisbane, or do you just stumble upon them? Well, on my recent visit to the restaurant Electric Avenue in Woolloongabba, I didn't even know it had an upstairs bar, let alone a hidden one. So, it was a nice surprise when after my meal I walked upstairs to find a closet door was the entrance to the bar, Mrs J. Rabbits.
I saw the guy I was dining next to downstairs at the closet entrance. He excitedly told me it's a prohibition bar, although seeing that it's blatantly displayed on their website and advertised as 'Brisbane's worst kept secret', I'm not so sure. I admired the guy's enthusiasm though and we followed him in.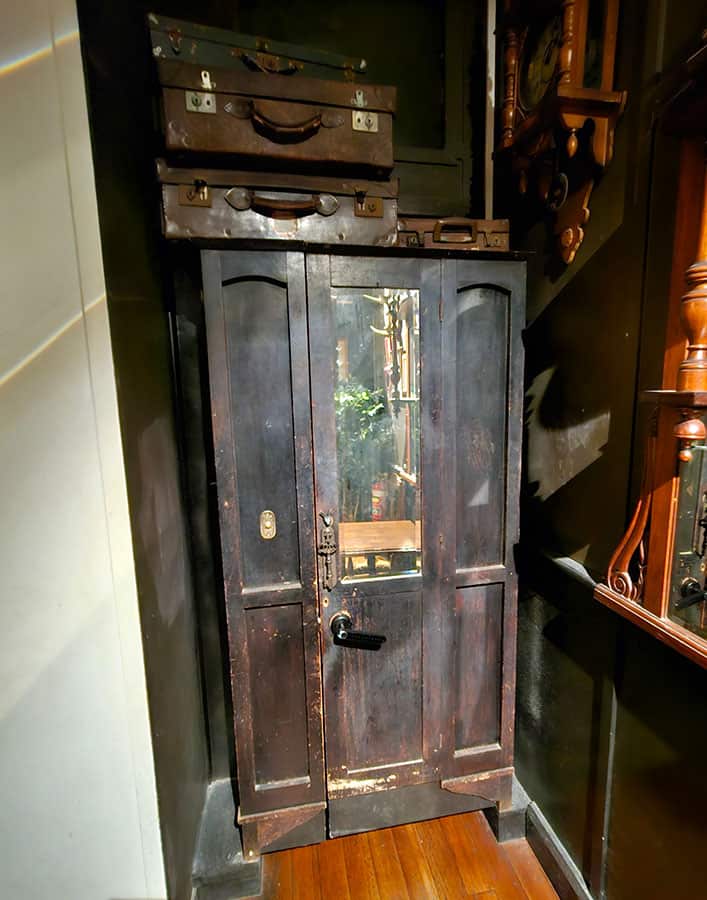 Mrs J. Rabbits – inside the warren
Apparently, there used to be a padlock on the cupboard door and you had to ask the bar staff downstairs for the code. Additionally, our dinner neighbour told me you once had to navigate your way through a rack of clothes before you entered. Not these days, as apart from the thick black curtain (see my video at the end), it was pretty easy to enter Mrs J. Rabbits.
Be warned though, you should book. We were there on a Friday night and were lucky there was space still available, otherwise we would've had to leave. So as far as hidden bars in Brisbane go, we had it pretty easy and upon entry, we sat by the window and spied the street action below. The lighting was subtle and moody, there was a Chesterfield sofa and a wooden bar – things were looking alright.
Mrs J. Rabbits Cocktails
The cocktail menu is based on the Brothers Grimm fairy tales. In fact, the whole bar has a fairy tale vibe, as you follow the white rabbit in order to enter the closet. I don't remember seeing any Alice or Narnia cocktails though. Once inside, you can choose from 'an array of bespoke cocktails and luxurious liquors', as the menu will tell you. I'm not really a cocktail man myself. I'd say I'm a bit of a beer connoisseur and I'm not too bad with wine either. I dabble with gin and whiskey but cocktails I generally stay away from.
When in Rome…So I ordered a cocktail which the bartender assured me was not too sweet (I don't like sweet drinks). It was the Godfathers Brew, which had pampero rum, apricot liqueur, amaro Montenegro, lime and sugar. To be honest, it was okay, but I didn't overly enjoy it and it was $25. If you're a cocktail person, you may like it so don't let me put you off. My partner had a gin and soda and was happy with her lot.
Live blues music
Other drinks include 'be not dead' and 'the fairy king', which might get you in the fairy tale mood. Apparently, there are over 150 spirits to choose from and there's a piano in the corner with regular musicians to serenade you with blues. I had a chat with the guy entertaining us on his break and he was friendly, and buzzing that he could also play the base part to the Peter Gunn theme from the Blues Brothers on piano.
The bar has cosy little hideaway corners that you could book for the evening and the place occasionally closes for weddings and private functions, as it's not exactly enormous. In all, if you're looking for hidden bars in Brisbane, this one's certainly worth a visit if you're in town.
Electric Avenue
Back downstairs is the restaurant Electric Avenue, which is decked out in older-style decor while displaying an eccentric collection of antique memorabilia in and around its walls. Old theatre posters line its brick walls, there was a miniature sailing ship separating us from the adjacent room, which was more of a nook. In all, things were looking a lot how I like them, and while the beer on the menu was decidedly weak (I'm a strong stout drinker), I managed to wrangle a current special – a chocolate stout.
The stout was good, as was the ensuing wine and we ordered our food early on to beat the dinner rush. I'm actually writing this post the other way around, as we came here before we went upstairs. Now the menu at Electric Avenue is quite small, which is not a bad thing if you happen to have trouble making decisions like my Libran partner does. She still had trouble, but we got there in the end.
Good food beneath hidden bars in Brisbane
Pretty soon our friendly, chatty waitress brought out a plate of warm olives and arancini with truffle, mushroom, gorgonzola, garlic aioli and balsamic glaze. This was ooh la la and even better than the arancini we had at Covent Garden. Next came the calamari fritti, with lemon pepper, sea salt and fresh lemon; followed by kaarage cauliflower – which is fried Korean-style with sesame, sriracha mayo and spring onion.
I have to say, everything was tasty and the right temperature. Pleasant is the word I would use, although the arancini was especially delicious and I liked the casual, chatty demeanour of our waitress. I admit to being rather tired on this evening, last Friday night, as I was up late last week working on this website after long days at work. So while I'm usually into my music, I really didn't notice the tunes. However my partner did, and she loved the classics such as Curtis Mayfield and Gil-Scott Heron playing in the background.
I also had a little wander around and I loved all the nooks. There were micro-adventures going on around the place, which I managed to get a glimpse of. The downstairs bar is also a bit of fun, with a large drink selection, boutique lighting and a few deer's heads stuck on the walls for a touch of Hemingway.
So, if you're looking for hidden bars in Brisbane and/or some good food in novel surrounds, head to Electric Avenue and Mrs J. Rabbits in Woolloongabba.
I reckon you won't regret it.