Brisbane is the fourth largest city in the world in terms of area. There's just so much space and so many places to explore in this beautiful, outdoor city. Better still, a lot of this space is dog-friendly and accessible from the CBD! So, if you're looking for some A-grade Brisbane dog walks, here are ten you can explore with your furry buddy – all which have been tried and tested by me and my cocker spaniel, Cookie.
Anstead Bushland Reserve
I love taking Cookie to Anstead Bushland Reserve, as it's a relatively unknown spot in Brisbane that he loves to explore. The reserve, which is located about 30 minute's drive from CBD, is 130 hectares in size. It also has water troughs and there are a few trails to explore – some which circumnavigate the park and others crisscross through it. The terrain is mostly grassland and dirt trails, so it's super dog-friendly!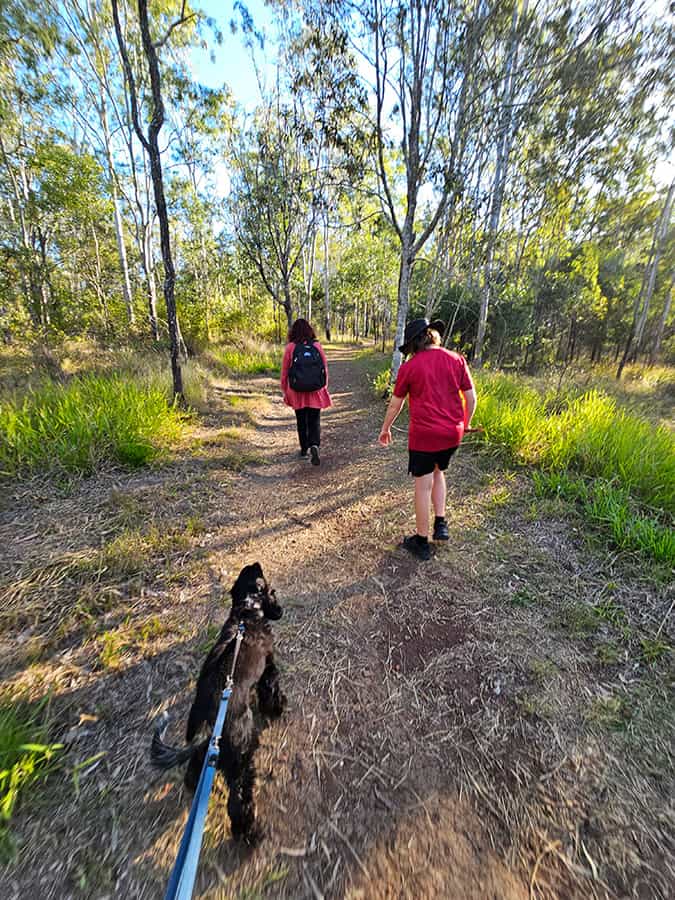 Unlike most other Brisbane dog walks, Anstead Bushland Reserve is also frequented by horses, so be careful letting your dog too close to them. Cookie almost had a bad mishap walking behind a horse. However, the reserve has lots of sticks for your dog to play with and the quarry down the bottom is a good place to explore. There are plenty of sticks there! In all, the reserve is big enough to entertain your dog for a couple of hours.
Bank Street Reserve
I love this little reserve – which is local to my neighbourhood – and it packs in a punch for its small size of just 35 hectares. The reserve is technically located in the suburb of Alderley, although it feels more like it's tucked away in the backstreets of Ashgrove. The reserve runs right alongside Enoggera Creek and has trails along its boundary and throughout. There's quite a bit of wildlife in Bank Street Reserve – such as owls, kingfishers, rosellas, water dragons, turtles and whipbirds, so your dog needs to be on a leash.
Saying that, there's a bit of an unwritten rule in the park that your dog can frolic off-leash on the big field in the middle of the reserve, supervised of course! The field is a central spot for dogs chasing frisbees, sticks, balls and each other. This makes it different to other Brisbane dog walks in that it's more social and a great place to congregate during sunset! Once your dog has burnt off some energy here, explore the rest of the park via dirt trails, which won't take you long. There are also no water troughs in this reserve.
Brisbane Dog Walks – Cedar Creek Swimming Holes
Brisbane dog walks aside, this is just a great place to walk in general and it's particularly popular with families. Located about 40 minute's drive from the CBD, just past Samford, Cedar Creek Swimming Holes will test you and your dog's agility and provide a good half-day's exploring. However, arguably the best part about this walk is that your dog can have a swim, in numerous places! Here there are enough swimming holes to go around so you don't have to crowd someone else's space.
Like all of these walks in this list, you'll need to keep your dog on a leash and if your dog is overzealous like mine, take care! Cookie fell off a few rocks here and nearly hit his head. Don't worry, as he's currently living to wag the tail in many other Brissie spots! There's no drinking water for dogs on this walk, nor bins, so bring drinking water and poo bags, particularly if you're keen to stay here a while. Check out my full post here for more information.
City River Loop
This one's a pretty decent walk, at 6.3km, although some of you might scoff at me saying that! Just something to keep in mind. Saying that, you don't have to do the whole thing and as far as walking your dog in the heart of the city goes, this is one of the Brisbane dog walks you definitely shouldn't miss! The good news with this one is there are water troughs and bins along the way and the views are also some of the best you'll find in Brisbane, anywhere!
I typically start this one in the City Botanic Gardens, then head to Goodwill Bridge, Kangaroo Point Cliffs, Captain Burke Park, Story Bridge, past Howard Smith Wharves and then I make my way along the river back to the botanic gardens. It's a great walk to do when the weather's fine, which is nearly all of the time in Brisbane! Just take care to let your buddy stop, rest and rehydrate on this one as it can be pretty taxing in the heat. Check out my detailed post on this walk here to find out more.
Coochiemudlo Island
I love Coochiemudlo Island! When I found out you can take your dog over on the ferry and walk him/her around the island, I was definitely keen to pay a visit. This is one of the better Brisbane dog walks as your dog can have a swim and explore the island's beaches. Even though the island is small, there's still a lot to see here. A little tip is if you go for lunch, head to the Curlew Café as it's dog-friendly. Unfortunately, the Coochiemudlo Island Beach Bar is not.
Norfolk Beach on the island's eastern side is a great place to let your dog frolic. Not only is there an expansive beach to explore, this beach also contains the tree cemetery, which should keep your dog entertained for a while. Lots of sticks to chew on! Further along, Morwong Beach is also an excellent spot as it contains mangroves that provide cool respite from the sun. Cookie loved sitting here and digging holes in the sand. Check out my post here for more details.
Eugenia Circuit
Of all the Brisbane dog walks I've done, this one is without a doubt my favourite. If you haven't done the Eugenia Circuit in Mt Coot-tha Forest, put it at the very top of your list of dog walks! What's so good about it? Everything. It's the perfect length – at about 4km long – and it's very beautiful. It's also conveniently located near the suburb of Bardon, just 20 minute's drive from the CBD.
This is another one where your dog can swim, but there are also rocks for the braver dog to launch off, drinking troughs and forest shade along the path. I typically explore the creek bed along this walk, which my agile little Cookie the cocker just loves. Just like Cedar Creek Swimming Holes, there are numerous little rock pools here which you'll have all to yourself. There's even a small bushland café, Via Retro Café, at the end of the walk (tucked away off the side of the road) that sells doggie treats.
Ferny Grove Rail Trail
Of all the Brisbane dog walks on this list, Ferny Grove Rail Trail offers Brisbane history and an atmospheric walk, even though it's fairly short. This trail connects the suburb of Ferny Grove to Samford Valley via a short bicycle track that runs along an old train line. The train line is home to QLD's worst rail disaster, which you can read more about in my post here. Today, it's a great place to walk the dog as there's plenty of shade and trails wandering off into the hills.
This is another trail that horses frequent, so keep that in mind. It was actually the first place Cookie ever saw horses and the look on his face was priceless. The horse riders were laughing pretty hard. There are also no bins or drinking troughs on this hike, but the hills in the woods provide for some pretty atmospheric exploration without being too taxing. The trail is also a favourite spot for cockatoos, which add to the atmosphere, as they sound like raucous prehistoric chain smokers.
King Island
You can benefit from my experience with this one as even though I've been to King Island and seen lots of dogs exploring it, I haven't taken Cookie here yet. I found posts that said you couldn't take your dog on the island but as I later found out, you certainly can! I confirmed this with the council, which you can check out on my post here. King Island is one of the funnest Brisbane dog walks as the path there disappears during high tide, so make sure you check the tide times!
The walk to the island takes about 20 minutes. King Island itself, which is located in the suburb of Wellington Point, is pretty small but there are expansive sand flats behind the island. Here I saw dogs frolicking – splashing in the shallows, running through patches of seagrass and fruitlessly chasing seagulls. It looks like a top spot for your dog but here you must also keep them on a leash. There are no bins or drinking water on the island.
Mt Coot-tha Summit Track
I just put out a video of Cookie walking up the Mt Coot-tha Summit Track, which you can check out below. It's arguably the most iconic of all the Brisbane dog walks as it's well equipped – having water troughs all the way up – well shaded and has a variety of tracks branching off its course. I've done this one with Cookie a few times. Be warned though, it is a bit of a dog highway, although nothing you or your dog shouldn't be able to handle.
If you're feeling particularly adventurous with your dog, you can explore areas on this trail such as JC Slaughter Falls, the bush chapel, hoop pine track and the JC Slaughter Falls Picnic Area. The falls have a nice, shaded creek bed you can explore and Cookie loves taking a plunge in the rock pools here, although it's often dry. JC Slaughter Falls Picnic Area is another great spot for the pooch, as there's plenty of grass, creek beds to explore and sticks to chew on. You could easily make a day of it here!
Toowong Cemetery
Toowong Cemetery is one of the Brisbane dog walks I've discovered fairly recently and I love it as it's a bit different. The park is certainly atmospheric – as most graveyards are – but this one is also beautiful as it's green, tree-laden, contains undulating hills and plenty of Brisbane history. With Toowong Cemetery, there are strict times when dogs are allowed to walk here – before 7:30am and after 4:30pm being the only times they're allowed to explore.
As with all other walks in this list, dogs must be kept on a leash in Toowong Cemetery and if you're caught neglecting your poo pickups, you'll receive a $100 on-the-spot fine. I'm happy about this because quite frankly, people that don't pick up their dog poop give me the shits! There's also drinking water in the cemetery, but there's a sign reminding you to turn off all taps after use. As the cemetery is 44 hectares in size, it makes for an intriguing place to explore with your pooch at sunset. Cookie seems to love it!
So there you have it, 10 great Brisbane dog walks for you to check out. Each section contains links to my more detailed posts on that walk, so don't forget to check them out!
What about you? Are there any great Brisbane dog walks that I've missed? Which one of these is your favourite? Let me know in the comments, on social media, or shoot me an email.
Happy dog walking!