I came across Anstead Bushland Reserve searching for dog-friendly walks in Brisbane. As I soon discovered, the reserve packs in a lot for its small size and makes for a great little afternoon adventure. Roughly 30 kilometres from Brisbane CBD, the reserve is also family-friendly, has numerous flora and fauna and the remains of an old basalt quarry.
Anstead Bushland Reserve's entrance contains a large park area with BBQ facilities, shelter, toilets and a children's playground. I've been here three times and each time there are families/friends celebrating or taking advantage of the facilities. Just next to the facilities is the start of the 3-kilometre return circuit, which takes in the majority of the 130-hectare reserve.
Anstead Bushland Reserve Trail
The trail is wide and flat and there are numerous signs informing you of the local flora, fauna and how Aborigines utilised the reserve's resources. Signs highlight trees to look for that had specific indigenous uses, like the soap tree, whose leaves were used to treat headaches and its bark for toothaches. Thanks to the sign I managed to spot one.
I heard birdlife along the trail but didn't catch more than a fleeting glance. Allegedly, the reserve contains catbirds, figbirds, black-faced cuckoo shrikes and powerful owls among its near 200 species. There are also koalas, echidnas and wallabies and on my third visit just last week, I spotted a wallaby bounding away at sunset.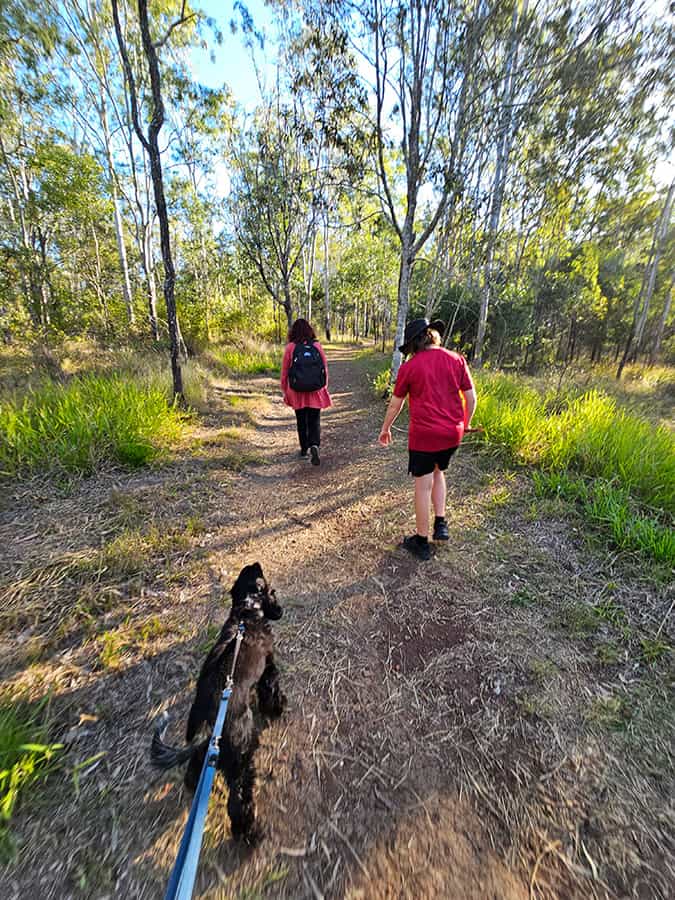 Further along, the trail sign also helped me spot a bush lime tree, which is allegedly a rare species that's only found in southeast Queensland. There wasn't any fruit on it when we walked past, as you can see, as it flowers between December and May.
The Lookout and the Quarry
Just a little further past the lime tree and you'll come to a wide-open space beneath telegraph lines. Take a right here to the best lookout in the whole reserve, as you can see a beautiful vista over the Brisbane River that almost looks too grand to be Brisbane.
When I posted it on Instagram my father-in-law thought I was lying, it's that pretty (as you can see above). This spot also appears seldom visited, in the few times I've been, and it looks like a superb place to bring a chair, a cup of something and enjoy one of Brisbane's magical spots at sunset.
Anstead Bushland Reserve – a little history
A little further on and you'll arrive at some stairs that lead you to an information plaque about the old basalt quarry and a little history on the place. The suburb of Anstead was named after one of the first landlords in the area, John Anstead, who took up land here in 1866. In 1887, Thomas Sugars began Sugars Quarry, which provided a livelihood for the community and construction for a then booming Brisbane.
The Quarry
The plaque and small lookout at the top of the stairs aren't much to look at (I won't even include a photo here, it's that ordinary), but your dog can get a drink in the water trough that's thoughtfully supplied. Continue further along the trail and pretty soon you can turn right and descend into the old quarry itself. You might see a few horses around as I have on several occasions as this is a popular spot for riders.
The old quarry is a nice place for a wander and my son loved exploring the little hills, climbing boulders and collecting sticks. My dog Cookie was also in stick heaven and as the sun was so bright and the grass was apple-green, it was a splendid late autumn afternoon. My partner Nikki remarked we should return for a picnic and I think that's a great idea, given how wide, green and comparatively empty the place is.
The Brisbane River
Anstead Bushland Reserve is located alongside Brisbane River, which definitely adds to its appeal. There's not any easy access to the river from the reserve, but you can enjoy the excellent views and spy the boats and jet-skis in motion (see my video at the end). On another occasion, I wandered around all boundaries of the park (which I'm wont to do) looking for a better view and access spots, but had no joy. Cookie and I did discover some nice little trails though…
On my most recent visit, we made the return journey via a different route, beneath powerlines that headed towards the road. Here's where we saw a wallaby bounding through the burnt-out scrub during the last light of day. Just before you join the trail again back to the car park entrance, there's an old, stone bridge, purpose and date of construction unknown to me. If you know of anything more, let me know in the comments.
A few fast facts
Anstead Bushland Reserve is roughly 25 minutes' drive from the CBD.
The Reserve at Anstead is a popular Queenslander-style restaurant/café just across from the reserve.