A Brisbane getaway doesn't have to be far to make you feel like you're miles from the big city. One such place is Dayboro. Roughly 45 minutes' drive from the CBD, this pretty little town, which spruiks itself as 'the town of yesteryear', takes pride in its heritage buildings, artisan food and thriving arts scene. It's also not uncommon to see the locals navigating the town on horseback. As you'll soon see, there are loads of things to do in Dayboro.
Our Sunday Afternoon Brisbane Getaway
Always keen to explore somewhere new, I drove towards the town of Dayboro with my little gang – my partner, my son and my dog Cookie. We've been out to Samford many times before but the extra 23 kilometres to Dayboro was fresh territory, just how I like it. Passing apple-green meadows and pastoral fields on a sunny winter's Sunday, we arrived at the town of Dayboro.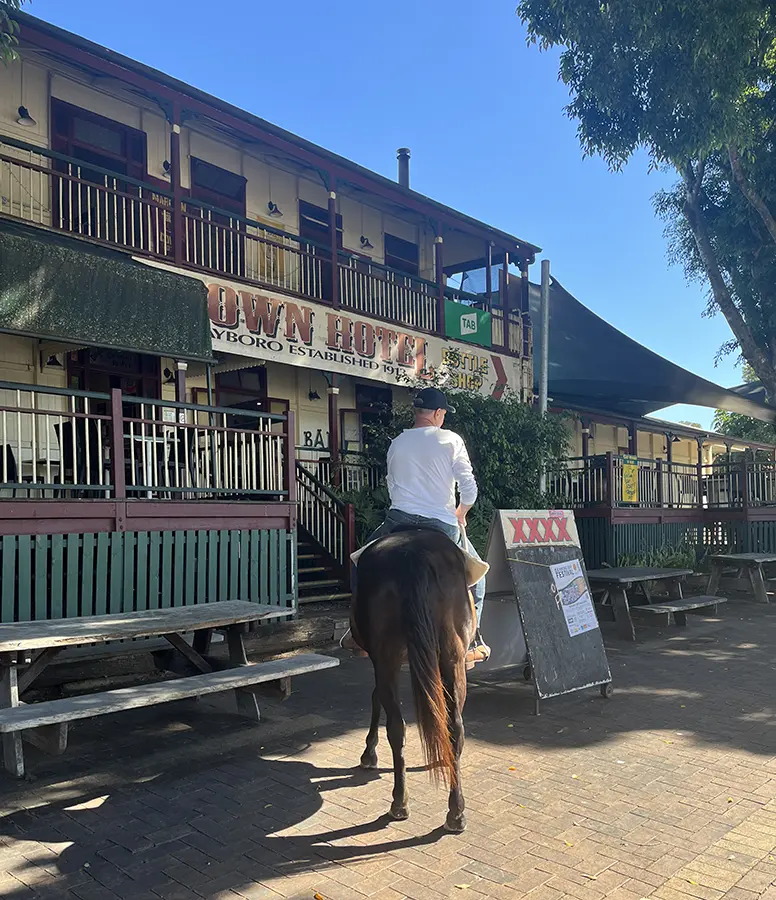 I love a town where the high street is the main artery and as we arrived I was happy to see this was the case in Dayboro. They also couldn't have picked a better spot to put the town pub – the Crown Hotel – as it sits at the top of a gently sloping high street beneath two century-old fig trees that frame it nicely.
Things to do in Dayboro – #1 The Dayboro Drop
As nice as the pub looked, it was busy on a Sunday afternoon and we wanted to go for a wander on our little Sunday Brisbane getaway. Further downtown, we soon found ourselves on the Queenslander verandah at the Dayboro Drop.
Cookie settled in nicely on the floor after we gave him a dried cow's ear and I ordered an Irish Red Ale and some chips and tomato sauce for Olin. The young waitstaff at the drop were attentive and friendly, perhaps because they were besotted with Cookie.
Nevertheless, the Sunday Brisbane getaway vibes were good and my prawns and rice were tasty, as was Nikki's calamari, although she thought they laid the batter on a little thick. The Dayboro Drop, as my local friends tell us, is renowned for its schnitzels and parmigianas, so If that's your thing, look no further! We enjoyed lunch here and would recommend a visit.
#2 Meet the Locals
Speaking of my friends, we were supposed to meet them for lunch at The Old Storehouse, but as my friend Lana had an infected tooth, she pulled out (no pun intended) the day before. The Storehouse was fully booked for lunch last Sunday, as apparently it's the spot, so definitely check it out if you're in town.
I quickly messaged Lana if she had any town tips and she and her partner Dan made the effort to meet us briefly, directing us on a nice little nature walk at the back of town.
#3 Do a Town Walk
It's a short walk, roughly a kilometre long, which winds past more pastoral fields and meadows. Here there's a lot of space and properties with super large yards, making you feel you're on a Brisbane getaway much farther afield. It's a walk that gives you a taste of the Dayboro countryside, which envelops you in all its natural loveliness. This got me thinking – this wouldn't be a bad place to live at all.
We reached an outdoor gym and when my son refused to leave, Cookie and I continued on a loop to the Crown Hotel at the top of high street and back through town. We went on the town's 'historic walk', which proudly displays its buildings, some of which date back to the late 1800s. Many of the original buildings are gone, although the plaques remain to inform you of the town's history.
The walk is worth doing, at the very least it's great at orientating you around Dayboro and introducing you to some of the town's short history and current hotspots. As I've mentioned, this is a Brisbane getaway that proudly displays its history, so you'd be hard-pressed to miss it upon a visit.
#4 Discover the Town's History
Dayboro country was originally inhabited by the Garumngar clan of the Jinibara Aboriginal people. Upon development in 1875, the town was named Hamilton after an officer. In 1892 its name was changed to Terrors Creek after an Arab stallion named Terah. I thought Terrors Creek was a cool name, but the town's postmaster thought it sounded too much like Torrens Creek. Its present name derives from honouring an early settler, William Henry Day.
Exploring further, we came across another historic landmark – the town's time capsule. The capsule is due to be opened in 2026 and currently sits surrounded by the former achievements of the town and its citizens.
#5 The Churn Room
Very much a part of the town's history is the Churn Room, as it's housed inside the town's old Silverwood Butter Factory & Store, which opened in 1903. After tumultuous events such as fires and a takeover, the factory closed in 1965. Today, the old building embraces the town's strong artistic side, housing handmade art and crafts.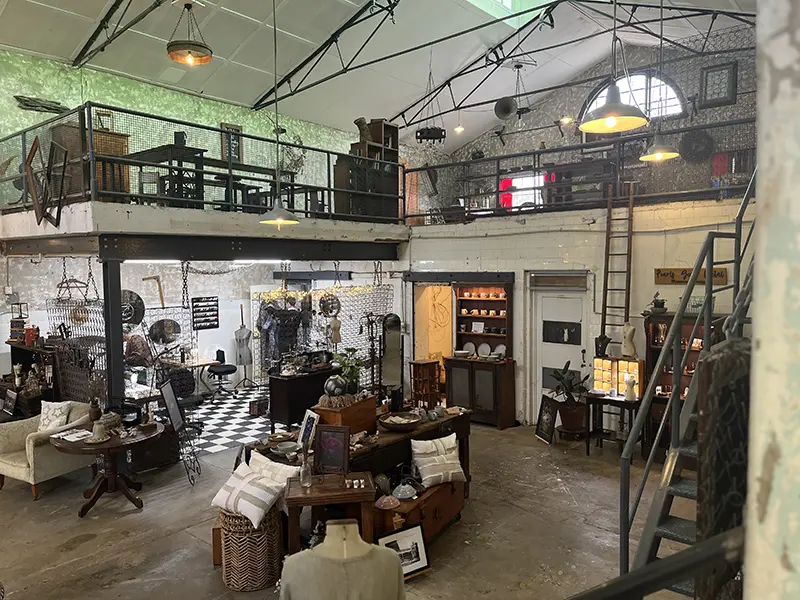 A visit here makes you feel like you're on a bonafide Brisbane getaway rather than visiting an outlier of the greater city. There's also carving, life drawing, weaving, and blind drawing classes on here regularly. Check out the Churn Room's website for more info.
#6 View the Yarn Bombing
One thing that struck me immediately upon arriving in Dayboro is the strong creative community. This is most evident in the yarn bombing, which is literally sprayed all over town. It's covering the bicycles, trees, poles, fences and there's even a couple of yarn-bombed kangaroos sitting out the front of the town's oldest building, Hay Cottage, which was built in 1871.
Proudly displayed on their knitted creations is a message from the QCWA Dayboro branch of the Queensland Country Women's Association. They describe wool bombing as 'a type of public art that features displays of knitting or crocheting on ordinary objects in the community'. It certainly gives the town a bit of quirk, as they've quite literally bombed Dayboro with it.
While this was novel to look at, what really propels Dayboro into a top Brisbane getaway is the sheer number of things to do around town.
#7 Cedar Creek Swimming Holes
Cedar Creek Swimming Holes is one of the more tranquil, exciting places to visit in all of Brisbane, not just Dayboro. We visited Cedar Creek Swimming Holes recently and had an absolute blast exploring the water holes that branch off Cedar Creek, which are numerous. There's also a waterfall at the end of the trail which is great to laze at. You can read about our experience at Cedar Creek Swimming Holes, which is roughly 15ks from Dayboro, here.
Hot Local Tips
Here's also a few hot tips to check out around town from my friend Lana and her partner Dan:
#8 The Dayboro Bakery
Head to the town bakery for the best croissants. This is Dan's recommendation and he's French. Apparently, the French sticks are worth a poke at too.
#9 The Storehouse
We missed this one, but I'll be back to update this post when I visit again soon. Try the homemade chutneys and the vanilla slices.
#10 Dayboro Village Meats
Word has it their meatball napolitana is quite the experience, as people regularly drive the 23 kilometres from Samford for their weekly shop.
#11 Dayboro Gelateria
It's not a bonafide Brisbane getaway without gelato, right? My well-travelled friend Lana says 'the pistachio gelato is straight out of Italy'.
#12 Dayboro Art Gallery
Here you'll find a permanent collection of local art that's apparently always growing.
#13 The Crown Hotel
Have lunch at this iconic hotel dating to 1913, beneath century-old fig trees.
As Dayboro is such a short distance from the city, it barely qualifies as a Brisbane getaway. However, this 'town of yesteryear' will make you feel you're much farther afield, which is exactly what I was searching for…