Brisbane offers numerous options to explore nature just a short distance from the city. One of these, which has jaw-dropping views while being relatively easy to access, is Mount Ngungun. It's therefore not hard to see why Mount Ngungun is the most popular of the Glass House Mountains walks. However don't let that put you off, as there's enough space to go around that makes the ascent well worth the half-day trip from the city.
Roughly an hour's drive from Brisbane City, Mount Ngungun is also conveniently located near The Lookout Café, which offers burgers with fine views over Mount Coonowrin. We stopped here and fuelled up before our journey, as we set off from the city late morning. I enjoyed a halloumi burger and chips before we drove 5-minutes to the base of Mount Ngungun.
Natural Environment
Standing 253 metres tall, Mount Ngungun is a result of the volcanic activity that occurred in the area 26 to 27 million years ago. It's one of the only Glass House Mountains Walks, along with Mount Beerwah, that has vertical rock columns from the activity. Unlike its neighbour Mount Tibrogargan, which I climbed recently, Mount Ngungun appears to have no glaring Aboriginal mythology associated with it.
Fauna that frequents the mountain includes black-shouldered kites, koalas and rainbow lorikeets. Interestingly, the mountain is popular with nocturnal wildlife, so the party really begins when we've all gone home. Nocturnal animals on Mount Ngungun include common blossom bats, grey-headed flying foxes, feathertail gliders and sooty owls, to name a few.
Glass House Mountains Walks – Our Ascent
After parking at the base of the mountain, we began ascending short flights of stairs, which you'll find all the way up the walk. The bushland is dry and open and the trail is fairly populated. I was expecting a popular walk and while there were no traffic jams, rarely did a minute go by without seeing someone.
Of all the Glass House Mountains walks, I chose this one to do with my son as I thought it would be relatively easy yet offer good views too. I wasn't wrong. We travelled fairly slowly up the mountain, as I was doing my usual – taking videos, photos and stopping at various points of interest. The ascent does offer views of Mt Tibrogargan to the south, but they're mostly obscured by forest.
At one point on the walk you'll pass a 'rock overhang', which looks a bit like a cave. There's a little junction at this point and here we saw people coming down and going up in two different directions. It wasn't a problem though, and at no point on the walk was there a jam, as there are wide paths and plenty of space on the summit too.
Mount Ngungun – Reaching the Summit
After 28 minutes of casual walking, we reached the summit. My son is reasonably fit, although he's not dexterous nor really an outdoors person. I was trying to immerse him gently into nature and this walk is a good choice. However, we both agreed that it was an easier walk than we were expecting.
There were about 30-50 people on the summit, but they were spread out over such a wide area that it was better than it sounds. Additionally, the moment we reached the top, we were greeted with the spectacular view of Mount Coonowrin with Mount Beerwah directly behind it. With the casual walk and the sweet backdrop, you can easily see why this is one of the best Glass House Mountains walks.
Exploring the Sumit
The summit of Mount Ngungun is fairly narrow, but it's long and affords lots of space for people to relax. Olin – my 12-year-old – and I had a good time exploring the top and looking at the 360-degree views that this walk affords. While I absolutely loved the much harder and more hair-raising climb of Mount Tibrogargan, you really can't see much at the top as it's obscured by scrub. As you can see, that certainly isn't the case here.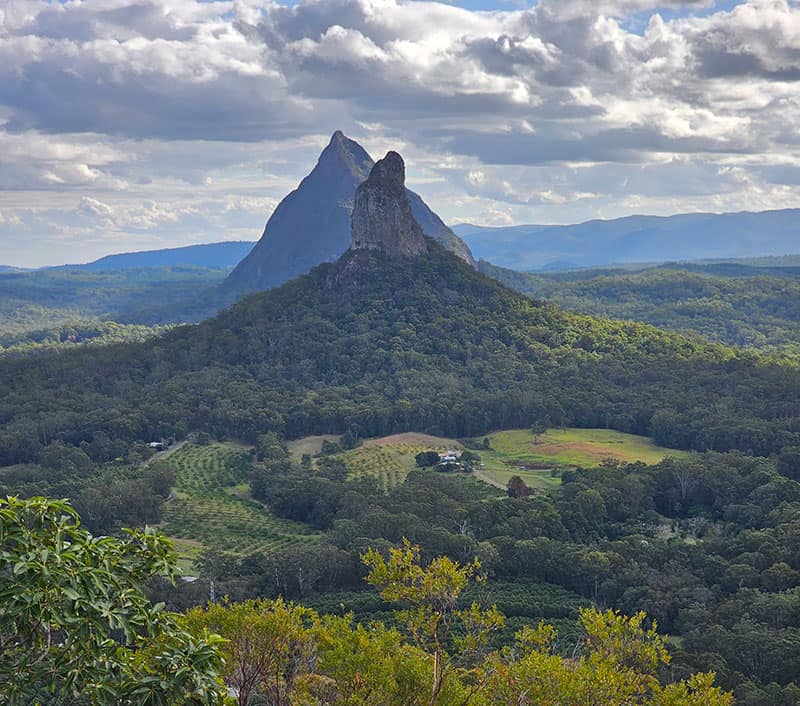 I enjoyed wandering in the direction of Mount Coonowrin and Mount Beerwah and Olin and I explored the highest point of Mount Ngungun before descending just a little. Here there were a few people sitting and soaking up this treat of Glass House Mountains Walks – accessible eye candy in one of Australia's most spectacular places.
Timing your walk
In all, we spent about 45 minutes at the summit, as Olin wanted to return. The summit certainly deserves more time – and you should give it more – but I felt I'd soaked up enough. We made the descent in 15 minutes, so the recommended 2hr round trip was an hour and a half for us.
Apparently, Mount Ngungun is spectacular at Sunset and I'd like to return for that, but doing it with my son and living in Brisbane City meant we'd be cutting it a bit fine. Besides, we were there late afternoon and luckily experienced a semi-overcast sky with intermittent sunshine. Not only was this good for our skin, it added a nice touch to the backdrop behind the mountains.
Hiking Tips
I'm a fairly fit middle-aged guy who walks a lot and I understand that signs and information cater for the less abled, but this really is easy. Additionally, I saw half a dozen five-year-olds doing this walk, as well as people that looked well into their sixties.
However, I did see one young guy puffing when he got to the top so if you're not physically fit then take care, but if you walk even a little bit you've really got nothing to worry about. In all, this is one of the most accessible of the Glass House Mountains walks, and with the spectacular views, there's really no reason why you shouldn't pay this place a visit if you're able-bodied.
Definitely put this one on your list.