My recent visit to Redcliffe made me realise what an ace part of Brisbane it is. It's my favourite beach-side suburb in Brisbane, as there's a thriving hospitality scene, it's very multicultural, and it flashes translucent water on its shoreline. You'll also find loads of history in Redcliffe and there's generally just lots to do in and around town. So without further ado, here are 7 things to do in Redcliffe.
Indulge at the Big Kid Ice Creamery
This 50s-style ice creamery has plenty of atmosphere and, more importantly, some uber-delicious flavours to choose from. In fact, there are 44 flavours in all so even the fussiest of eaters should find some solace at the Big Kid. I'm not a particularly sweet-toothed person, but I was roped in by my partner and 12-year-old.
Pretty soon I was sampling their rocky road and M&M ice cream, as well as their gluten-free vegan coconut and caramel ice cream, and the GFV chocolate flavour (my partner is gluten intolerant). Both were smooth, creamy fun. Even for a non-sweetie like me. While we didn't sit inside, as you can see in the pic, it looks like a blast from the past. Definitely put it on your list of things to do in Redcliffe.
Walk Down Bee Gees Way
I was a little sceptical about Bee Gees Way, as I thought the connection here was a tad cheesy and tenuous at best. However, upon learning a bit more about these brothers, I became interested and even a little touched. While three of the brothers had passed by the time this walkway was opened, sole surviving member Barry Gibb was there to inaugurate it on the 14th of February, 2013.
The 70m walkway contains photos, album covers, artwork and personal stories of the brothers as depicted by Barry. The Bee Gees lived in Redcliffe during the boys' formative years, arriving in 1958 from Manchester, England. It was here the brothers began performing to raise pocket money and Barry Gibb recalls it as one of the fondest memories of his life. So, if you're a fan, put this one on your list of things to do in Redcliffe.
The Bee Gees weren't in Redcliffe very long, as they also lived in Brisbane's Cribb Island, then in Sydney from 1963 to 1966 and in 1967 they returned to England to find fame and fortune. However, Barry apparently loved the statue below, of which he said, "jeans rolled up, bare feet, and life was either on the beach, or in the bush, or just exploring or just being kids. And it captures that, the statue captures that".
Bee Gees House (a little addition)
Interestingly, the Bee Gees house, where they spent some of their childhood, is located in the adjacent suburb of Scarborough. The owners have kept its original condition and even have a sign out the front. It's also in Google Maps so I didn't feel guilty when I stepped out of the car and fired off a shot. It's certainly an interesting contrast to the more modern houses next door and it got me thinking about these young boys, who were like any other but weren't at the same time.
Things to do in Redcliffe – Comino's Arcade
I was tickled to discover Comino's Arcade, as it's a curious little place with an interesting past. If you're into your history, this is definitely one of the best things to do in Redcliffe. In 1941 Greek Immigrant Arthur Comino built this shopping arcade, complete with cafes on the ground floor, bedrooms on the first floor and a double-height ceiling ballroom along with Redcliffe's first nightclub on the top floor.
Arthur built this in response to the entertainment on demand in the 1940s by Australian and North American troops. The architecture was high-quality and set the bar for future development. Tragically, Arthur Comino died inside the arcade, falling off a ladder while doing repairs in 1949. There are rumours the place is haunted, and I was certainly a little perturbed when I saw the sign below at the rear entrance to the arcade.
Lunch at Yabbie Road
Well, if you're looking for things to do in Redcliffe that pay homage to famous music groups, you're in luck. Yabbie Road is a Beatles mania fish & chip shop that sits right by Comino's Arcade, and it's as novel as it is tasty. Here you'll find crumbed and battered goodies such as 'All You Need is Cod', the 'Beatles Pack and the 'Ringo Pack'. There's even a pedestrian crossing leading to the café in honour of Abbey Road.
Whilst it's a bit kitsch, it's also a bit of fun and it's positioned right in the thick of the strip, which makes it ideal for people-watching. My son wanted to go and sit by the Redcliffe Jetty, but I convinced him to recline at Yabbey Road and soak up the Redcliff vibe. I had cod and chips and a scallop and I was a happy man, albeit a slightly greasier one at the end.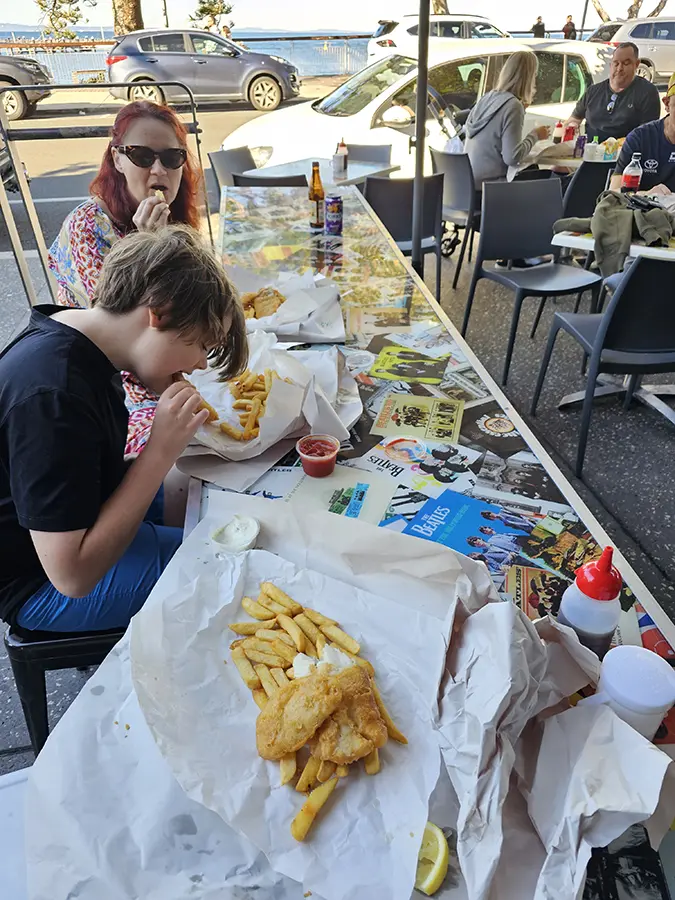 Stroll Along Redcliffe Jetty
A favourite hang of the Bee Gee brothers in the late 50s, Redcliffe Jetty is a prominent landmark in the area that's been through many phases. Built in 1885, it was extended in 1889, rebuilt in 1922, then built again in 1999. Today it's probably lost a bit of the charm of the Bee Gees' days, particularly as there was a roller derby where now stands Anzac Place. And while wooden planks are cool, they certainly don't withstand the test of time like concrete.
Nevertheless, this is one of the most iconic things to do in Redcliffe, as it's a decent stroll out into Moreton Bay at 700 feet and gives you a different perspective on the town. From the jetty, you can spy translucent water which flanks a small beach and what could pass for a meadow. Not a bad view on a sunny day in Brisbane at all.
Swim at Settlement Cove Lagoon
Now here's a spot that's certainly worth visiting in the summer and all-year round if you're brave enough for a dip. Settlement Cove Lagoon is a public pool that's open 24/7, 365 days per year, and lifeguards patrol the place from 7am to 6pm, Monday to Friday.
Apart from being large enough to accommodate a crowd, it's got its own island, wading pools, BBQ and picnic areas, a bikeway, playgrounds, a toilet and showers. It's an accommodating spot for some family fun that should most definitely be on your list of things to do in Redcliffe. However, not all family members can participate, as unfortunately dogs are not allowed in the lagoon area.
Visit Redcliffe Markets
The Redcliffe Markets are actually a highlight of the area and one of the best markets in all of Brisbane. Open every Sunday from 8am to 2pm, the markets offer visitors farm-direct meats, fresh seafood, gourmet baked savouries and sweets, and a host of other quality goodies. I stumbled upon some of these ridiculously ornate soap bars as you can see here. They're actually not cake so be warned!
The markets are also located by the sea and there's always free entertainment to capture the attention of visitors. This includes Latin American-themed street parties with food and dancing girls, intricate sand castle sculptors, stilt walkers, fireworks, live musicians, you name it! And that soap! Of all the things to do in Redcliffe, this one is a must. So time your visit on a Sunday if possible.
You might have trouble fitting all of these into one day, although each activity deserves your time and attention as I had fun doing them all (not in one day though). While it's about 40 kilometres from the city centre, or about 40 minutes' drive, Redcliffe is well worth a visit as it has its own unique stamp on Brissie Life.
Actually, I was surprised how much I liked it.